Course details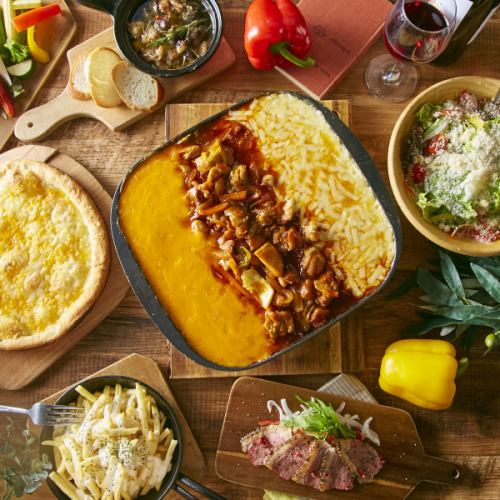 "Volume perfect score course of meat × cheese" 3 hours Having drinks allotted "10 items 3980 yen ⇒ 3480 yen"
By using a coupon3480 yen
※Tax excluded
10items

2persons

~

All-you-can-drink available

All course All you can drink B plan (sour / soft drinks) ★ + 500 yen with A Plan Drink All you can!
Main is Korean topic cheese taccarbie! This is our most popular number one course you can enjoy all the delicious meat dishes and cheese dishes!
Menu
【1 item】 2 kinds of daily tapas
【2 items】 Cheese salad with meat and avocado
【3 items】 Broiled cheese of smoked duck
【4 items】 Sakusaku Fried Potatoes - Cheese sauce tailoring ~
【5 items】 Original chicken frit
【6 items】 Assorted juicy sausage
【7 items】 Special butcher special ♪ Ahijyo of the sand liver
【8 items】 Boiling in South Korea! Cheese Tacalc bee
【9 items】 Quattro formage or wild cooking
【10 items】 Today's Dolce
※ Friday, Sunday and public holiday will be 2 hour system and + 500 yen.
※ There is the case that the contents are subject to change by buying situation.
All-you-can-drink menu
· * B course *
· [Sour] lemon sour lime sour grapefruit sour orange sour acerola sour Oolong High green tea High jasmine high
· * B course *
- [wine] Almaden (red and white)
· * B course *
· [Soft drinks], Pepsi-Cola, ginger ale, tonic Wo - data - lemon squash orange juice, grapefruit juice, acerola soda Calpis or soda oolong tea, green tea, jasmine tea
· * A course *
· [Beer] Clear Asahi barrels student-Jandi - Gaf Kashisubia Muscat Beer blueberry Beer La France Beer [sangria] Vie Nha Arubari sangria (red and white)
· * A course *
- [high ball] - Nikka high ball Ginger high ball-Cola high ball lemon squash high ball acerola high ball [sake] - exciting
· * A course *
· [Cassis] cassis soda, Cassis Orange Cassis Grape Cassis Oolong cassis tonic [Peach] Peach soda Fuzzy Navel Peach Grape Regepanchi Peach tonic
· * A course *
· [Lychee] - Raichisoda, lychee orange, lychee grape, lychee oolong, lychee tonic [Jin] Jin tonic Jinbakku - Rickey
· * A course *
· [Vodka] vodka tonic Moscow Mule screw driver [Tequila] Tequila tonic Tequila Sunrise
· * A course *
· [Plum] - KoAtsushi plum wine [flavored shochu]-season Kaoru whether or cassis-season Kaoru whether or citron-season Kaoru whether or lychee
· * S course *
· [Beer] Asahi Super Dry, Jandi - Gaf Kashisubia Muscat Beer blueberry Beer La France Beer
· * S course *
· [Liquor] Jack Daniel Jack Daniel's Tennessee Honey
· * S course *
- [high ball] Apple wine high ball Black Nikka rich blend ginger high ball-Cola high ball lemon squash high ball acerola high ball
· * S course *
- [Non-alcoholic] Doraizero vial
2018/06/13 update