Course details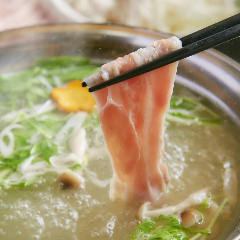 "Standard course" Main dish is an exquisite pork shabu-shab! All-you-can-drink for 3 hours 【9 items 3480 yen ⇒ 2980 yen】
By using a coupon2980 yen
※Tax excluded
9items

2persons

~

All-you-can-drink available

All course All you can drink B plan (sour / soft drinks) ★ + 500 yen with A Plan Drink All you can!
Recommended for parties, drinking party, farewell reception party! Exquisite pork shabu-shabu is the main ♪ More relaxing 3 hours free all-you-can-drink!
Menu
【1 item】 daily appetizer
【2 items】 Caesar salad with plentiful Parmegiano
【3 items】 Black tea duck carpaccio
【4 items】 crispy ♪ French fries
【5 items】 Wall Thick Juicy Chicken Frit
【6 items】 Special butcher special ♪ Ahijyo of the sand liver
【7 items】 Pig shabu shabu
【8 items】 Noble cooking
【9 items】 Today's Dolce
※ Friday, Sunday and public holiday will be 2 hour system and + 500 yen.
※ There is the case that the contents are subject to change by buying situation.
All-you-can-drink menu
· * B course *
· [Sour] lemon sour lime sour grapefruit sour orange sour acerola sour Oolong High green tea High jasmine high
· * B course *
- [wine] Almaden (red and white)
· * B course *
· [Soft drinks], Pepsi-Cola, ginger ale, tonic Wo - data - lemon squash orange juice, grapefruit juice, acerola soda Calpis or soda oolong tea, green tea, jasmine tea
· * A course *
· [Beer] Clear Asahi barrels student-Jandi - Gaf Kashisubia Muscat Beer blueberry Beer La France Beer [sangria] Vie Nha Arubari sangria (red and white)
· * A course *
- [high ball] - Nikka high ball Ginger high ball-Cola high ball lemon squash high ball acerola high ball [sake] - exciting
· * A course *
· [Cassis] cassis soda, Cassis Orange Cassis Grape Cassis Oolong cassis tonic [Peach] Peach soda Fuzzy Navel Peach Grape Regepanchi Peach tonic
· * A course *
· [Lychee] - Raichisoda, lychee orange, lychee grape, lychee oolong, lychee tonic [Jin] Jin tonic Jinbakku - Rickey
· * A course *
· [Vodka] vodka tonic Moscow Mule screw driver [Tequila] Tequila tonic Tequila Sunrise
· * A course *
· [Plum] - KoAtsushi plum wine [flavored shochu]-season Kaoru whether or cassis-season Kaoru whether or citron-season Kaoru whether or lychee
· * S course *
· [Beer] Asahi Super Dry, Jandi - Gaf Kashisubia Muscat Beer blueberry Beer La France Beer
· * S course *
· [Liquor] Jack Daniel Jack Daniel's Tennessee Honey
· * S course *
- [high ball] Apple wine high ball Black Nikka rich blend ginger high ball-Cola high ball lemon squash high ball acerola high ball
· * S course *
- [Non-alcoholic] Doraizero vial
2018/06/13 update